Coming in early 2024: Suite Night Awards will be called Nightly Upgrade Awards and will include additional brands and nearly 20% more rooms available for upgrades across all participating brands. See our FAQs to learn more about the exciting updates.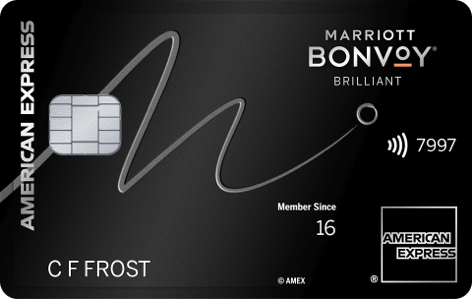 The Brilliant Earned
Choice Award
After spending $60,000 on eligible purchases in a calendar year on the Marriott Bonvoy Brilliant® American Express® Card, Card Members may select an award as part of the Brilliant Earned Choice Award. Limited to one award per calendar year. Benefit options include:
5 Suite Night Awards™

Suite Night Awards can be requested at any time after your hotel reservation is confirmed. Each Suite Night Award may be redeemed for a one-night upgrade for select, Premium Rooms or standard suites on a per room, per night basis, subject to availability. There must be enough Suite Night Awards in the Card Member's Marriott Bonvoy member account so that one is applied to every night of the reservation.

A Free Night Award valued at up to 85,000 points

You can redeem the Free Night Award for a one-night stay at hotels participating in Marriott Bonvoy® with a redemption level at or under 85,000 points. Certain hotels have resort fees.

$1000 Off a Bed from Marriott Bonvoy® Boutiques

Card Members will receive a promotional code valued at $1000 off Marriott retail brand mattresses and box springs.
If you made $60,000 or more in eligible purchases on your Card this year, sign in and choose your benefit by February 1, 2024. If no selection is made by the deadline, 5 Suite Night Awards will be deposited in your account as your selection.
If you haven't yet reached the $60,000 spend threshold, we'll notify you when you have — along with instructions on how to unlock your Brilliant Earned Choice Award. Sign in to learn more about each award available and make your selection.